Frequently asked questions
Blackboard Staff FAQs
What do I need to know to get started in a course?
---
When you attend the initial Blackboard training course you will get guidance on how to start using your Blackboard course(s). You can access this training material in Blackboard: Build an Original/Ultra course and you can also contact the Learning Technologies Team for assistance.
---
How do I "Course Copy" content from one course to another? (Original Course)
---
To copy content from one course to another access the course you want to copy. On the Control Panel, expand the Packages and Utilities section and select Course Copy. Select the appropriate option:
Copy Course Materials into an Existing Course
Copy Course with Users (Exact Copy)
If you chose Copy Course Materials into a New Course or Copy Materials into an Existing Course, select the course materials that you want to copy over.

A course copy operation can't be completed if you don't select at least one of these areas: Content, Contacts, or Settings. If you don't select one, a warning appears and Blackboard Learn can't create a new course.

In the File Attachments section, select the option to copy links to: Copy Links to Course Files: No copies of linked files are included in the copy. The copied course will have the same set of links. Those links will point back to the original location of the link defined in the origin course. Copy links and copies of the content: Make copies of linked files, but only those files that are linked. Files within the course's home folder that aren't linked to any content within the course aren't included in the copy. Copy links and copies of the content (include entire course home folder): Make copies of all files in the course's home folder regardless of whether those files are linked to course content.

You need manage permission on an item to include copies of those files. If you don't have this permission, you may be missing some files after the copy

. Select the Folder for Content Collection Files, if applicable. Select Enrollments to copy the list of users in the course. User records, such as discussion activity and grades won't be copied. User records are only copied if you select the Copy Course with Users (Exact Copy) option. Select Submit.
---
How do I make a course "Open (Available)" to students?
---
When a new course is created it is set as Private (unavailable) to students by default. You will need to open it so that students have access. You can make a course Open by selecting the three dots on the right handside of the course, then choosing Open course.
You can also make a course available by going inside the course and clicking onto the small lock symbol in the top right of the course. If you are making a number of courses available then you can also use Qwickly which is available in your course list.
---
Can I restrict access to content? (Adaptive Release) (Original Course)
---
Yes you can! You can use adaptive release rules to have he ability to restrict access to content (e.g. Assignments, Files, URL. Folders) to students/selected groups. You can read more about adaptive release here.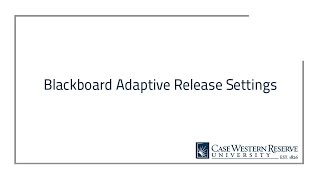 This vieo shows you how to set up these rules in an Original course.
---
How do I add students to a course? (Original Course)
---
Normally, students are automatically enrolled in the Blackboard areas they need, via the Student Records System. However, there may be instances where you need to enrol individual students; to provide quick access to materials.

It is easy for you to do this in any Blackboard area where you have Instructor level access. Go to the course Control Panel and click on Users and Groups Then click on Users
Now click on Find Users to Enrol

Enter the student number, or multiple student numbers separated by commas, in the Username box, make sure Role is set to Student then click Submit.

The student will now be enrolled.
---
---