Windows 10 is the latest Operating System from Microsoft, superseding Windows 7 and 8. There are a number of great features available in Windows 10 to help you customise your experience and tailor your PC to you.
Changing your password
Customise your mouse control
Adjust your volume control
Change your display settings
Create Files + Folders
Using Keyboard shortcuts
Windows 10 is what is known as an "Operating System" or "OS". This is different from an application program or software. Your work PC or Laptop will have Windows 10 as it's operating system. You can customise settings in Windows 10 to suit your preference, things like changing display and volume as well as being able to manage your password and sorting out your files. The video from Linkedin Learning goes into more depth about Operating Systems.
Frequently asked questions
How do I change my Password?
---
Passwords are those great little things that keep all our things secure, not so great when we forget them. We have to change them regularly for security reasons. To begin changing your password you must press Ctrl + Alt + Delete and then choose Change Password. When changing your password try to keep to the following guidelines. Your password must: Be at least 7 characters long; Contain at least one uppercase character; Contain at least one lowercase character; Contain at least one number. Cannot be one of the last 4 passwords you used. Cannot be similar to your previous password. Cannot contain your username or parts of it. Cannot contain two or more consecutive characters from your full name
---
How do I adjust my Volume?
---
To turn own your PC's volume from the desktop, click the little speaker by your clock and slide down the volume. To mute your PC, click the little speaker icon at the left of the sliding control, as shown in the gif. Right click the taskbar's speaker icon and choose Open Volume Mixer from the pop-up menu to set different volumes for different desktop programs.
---
How do I change my mouse speed?
---
To Navigate to mouse control options right click anywhere on your desktop, select personalise, click themes and select mouse pointer settings. From here, amongst other options, you can adjust your mouse pointer's speed under the Pointer Options tab.
---
How do I manage my Files?
---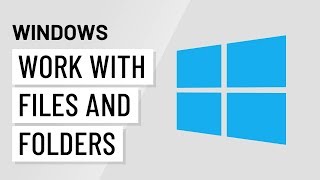 Let's be honest, we are all guilty of it at some point. We create a file and stick it on our desktop and just keep going until it's a bit of a cluttered mess and we can't find what we are looking for! The video shows you more about file management and if you follow these simple instructions you can keep on top of your files and have a more organised looking desktop!
---
---